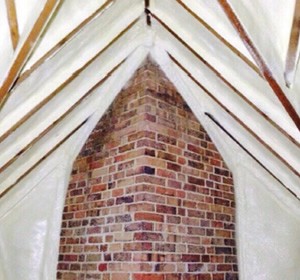 The channel 4 hit series, Grand Designs, is one of those shows that throws up some great ideas and inspiration for self building, renovations and home improvements in general. So when I'm flicking through the channels and hit on this gem of a show, I kick back and enjoy.
I did just that over the weekend and watched the Gloucestershire Treehouse episode. The house was on three levels rising up into surrounding trees with a steel and timber structure, supported on specially designed steel piles that screwed deep into the ground, avoiding tree roots and helping to get planning approval for the project. The timber panelled building with elevated decks and fantastic interior design held a light and tranquil ambience with countryside views, framed by the surrounding woodland in which the house was constructed. A fantastic and rather magical home.
It was great to see one of our popular products being used in the project – Spray Foam Insulation, which in a timber panelled house, will prove essential for comfort in the colder months and is extremely effective in protecting and strengthening. Spray Foam Insulation is typically applied to the inside of roofs in the loft area creating a usable space and increasing thermal efficiency.
There are several types of spray foam with varying levels of effectiveness, County Windows use a BBA Approved, high quality, rigid foam that has a 90% closed cell construction, ensuring that our insulation projects do the job perfectly, look great and last.
Find out more about Spray Foam Insulation
Watch the episode on demand – Grand Designs