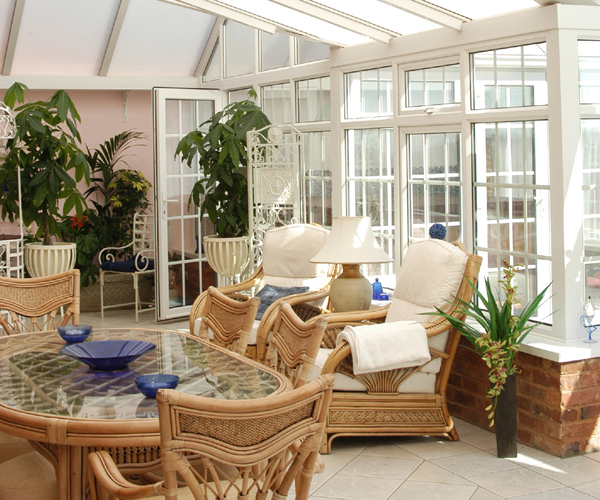 With fingers crossed for good summer weather this year, we can start thinking about how we are going to be using the garden and how our conservatories can be an enjoyable part of that this year. Here are some things that you can do to make your conservatory summer ready!
If you don't have a conservatory but want that extra space this year, then check out our conservatory pages here.
Remove Clutter
Some things may have moved around the house a bit over the winter, with some items ending up in the conservatory. Time to be a little ruthless and find a new home for anything that is not needed day to day.
Clearing as much space as you can will give you a better view of how you want to arrange things for the summer, going the whole hog and taking everything out to start with will allow you to be selective with what goes back in, this is a great way to end up with more open space.
Spring Clean
Give your conservatory jolly good clean inside and out, the more hands on deck the better. Cleaning is not rocket science so no one needs instructions but there are a few considerations, here's a few bullet points:
• For windows and frames use a non-abrasive cleaning product – We recommend Silversil PVC-U Cream Cleaner for the frames
• Remove rings to avoid scratching
• Make sure your cloths / sponges are debris free
• Outside – Clear the guttering of muck and clean the roof first. Don't stand on the roof, a floor/sponge mop should be able to reach
Summer Style
Now your conservatory is clean, decluttered and the furniture has been selectively popped back in to suit your summer activity you can add some summer style.
A good ensemble of plants and flowers is a really nice way to blend the space with the garden, small potted fruit trees or strawberry plants would be great to bring in once pollinated.
Creating a theme will make your conservatory look great and feel welcoming for guests, get creative with themed cushions, pictures and the odd accessory. Whether that's a relaxing pastel colour theme or bright beaming colours, making your conservatory feel more like a room will encourage you and your guests to use it more.
Comfort
Some older conservatories can get hot when the sun is up and beating down. Blinds and fans can be called into action but if this is a problem in your conservatory then replacing the roof is highly recommended. There are several options from reflective glass and solid roofs to light weight tiled roofs that will transform your conservatory keeping it cooler in the summer and being energy efficient, a modern conservatory roof will also make it easier to keep warm in winter.
Find out more about conservatory roof upgrades.
---
Hopefully this little article has sparked some enthusiasm and it's not long before you are making the most of your summer ready conservatory, in some positively balmy weather… Fingers crossed!