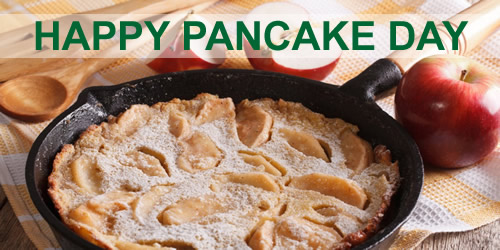 Happy Apple Pancake Day! – Have a go at this easy, yet scrummy, apple pancake recipe.
Ingredients
> Two tablespoons of butter salted or lightly salted
> Three apples, cored, peeled and sliced to preference
> Half a teaspoon cinnamon
> Quater of a cup of brown sugar
> Three large eggs
> Half cup of milk
> Quater teaspoon baking powder
> Two tablespoons any type of flour
> powdered sugar, for dusting
Instructions
> Preheat oven to 375
> Mix up brown sugar and cinnamon
> Beat together eggs and milk until combined
> Mix flour and baking powder and wack it into the egg/milk mixture
> In a skillet, heat butter, pop in the apple slices then throw on 1 tablespoon of the brown sugar mixture and cook, stirring, until soft. About 5 minutes.
> Pour the batter over the apples and sprinkle the remaining brown sugar on top.
> Bake until it puffs up, about 18-20 minutes then take it out.
> Dust with some of the powdered sugar if you fancy and serve.
ENJOY!